Salon to serce każdego domu, miejsce, gdzie spotykamy się z rodziną i przyjaciółmi, relaksujemy się po pracy i spędzamy wiele godzin rozmawiając, czytając czy oglądając telewizję. Nic więc dziwnego, że dbamy o to, aby taka przestrzeń była wyjątkowa pod względem wyglądu i atmosfery. Jednym z elementów, który może nadać jej niepowtarzalny charakter, jest biokominek w salonie. Dlaczego warto zdecydować się na takie rozwiązanie? Jak wkomponować go w aranżację? Odpowiadamy na najważniejsze pytania. Dzięki naszym wskazówkom stworzysz nowoczesny salon z biokominkiem.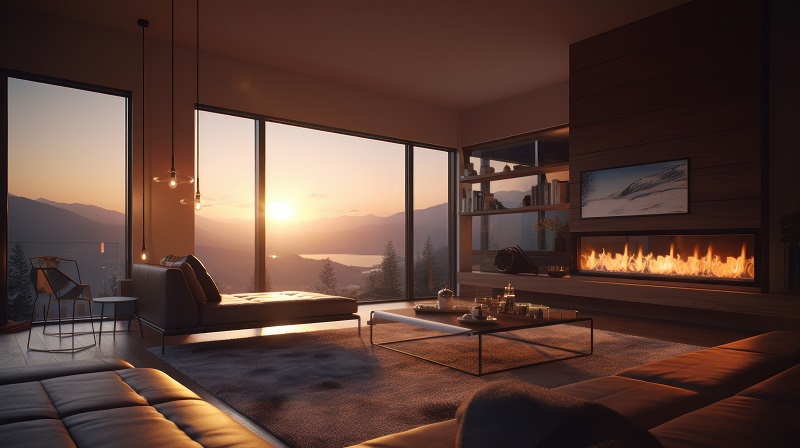 Biokominek w salonie, czyli estetyka i funkcjonalność w jednym
Nowoczesne bio fireplaces to urządzenia, które cieszą się coraz większą popularnością ze względu na swój atrakcyjny design i przyjazność dla środowiska. Są one doskonałym połączeniem funkcjonalności oraz estetyki – stają się nie tylko źródłem ciepła, ale także ważnym elementem dekoracji wnętrza. Ich istotną zaletą jest również uniwersalność w zakresie montażu. Bez problemu zainstalujesz biokominek w salonie w bloku.
Biokominki są dostępne w różnych stylach. Jeśli Twoim celem jest stworzenie minimalistycznego salonu, możesz wybrać biokominek o prostej, geometrycznej formie z elegancką obudową, który będzie harmonijnie komponował się z nowoczesnymi meblami i dekoracjami. Dla miłośników klasyki dostępne są biokominki o bardziej tradycyjnym wyglądzie – łatwo wybierzesz odpowiednie rozwiązanie.
Nowoczesny salon z biokominkiem – wiele opcji montażu
To, w jakim miejscu znajdzie się biokominek w salonie, zależy od Twoich preferencji i stylu wystroju wnętrza. Tego typu urządzenia dostępne są w kilku wariantach, różniących się sposobem montażu. Najpopularniejsze z nich to:
Bezpieczny biokominek w salonie dla Twojego komfortu
Bardzo często padają pytania o to, czy biokominek w salonie w bloku to na pewno bezpieczne rozwiązanie. Możesz spać spokojnie! W przeciwieństwie do tradycyjnych kominków na drewno, modele na biopaliwo nie wydzielają dymu, szkodliwych substancji czy iskier, co sprawia, że są bardziej przyjazne dla otoczenia, zdrowia i środowiska. Jeśli salon z biokominkiem będzie odpowiednio wentylowany, a samo urządzenie użytkowane zgodnie z zaleceniami, nie musisz obawiać się żadnych niebezpiecznych zdarzeń.
Biokominek jako dodatkowe źródło ciepła
Salon z biokominkiem to miejsce, w którym będzie panować wyjątkowa atmosfera, zwłaszcza wieczorami. Biopaliwo spala się czysto i bez wydzielania dymu, co oznacza, że nie potrzebujesz komina wentylacyjnego ani specjalnej instalacji. Nowoczesne biokominki, choć nie są głównym źródłem ciepła, mogą stanowić świetną alternatywę dla grzejników elektrycznych, dogrzewając pomieszczenie. Są doskonałym rozwiązaniem na chłodniejsze dni, gdy chcesz cieszyć się przyjemnym ciepłem ognia.