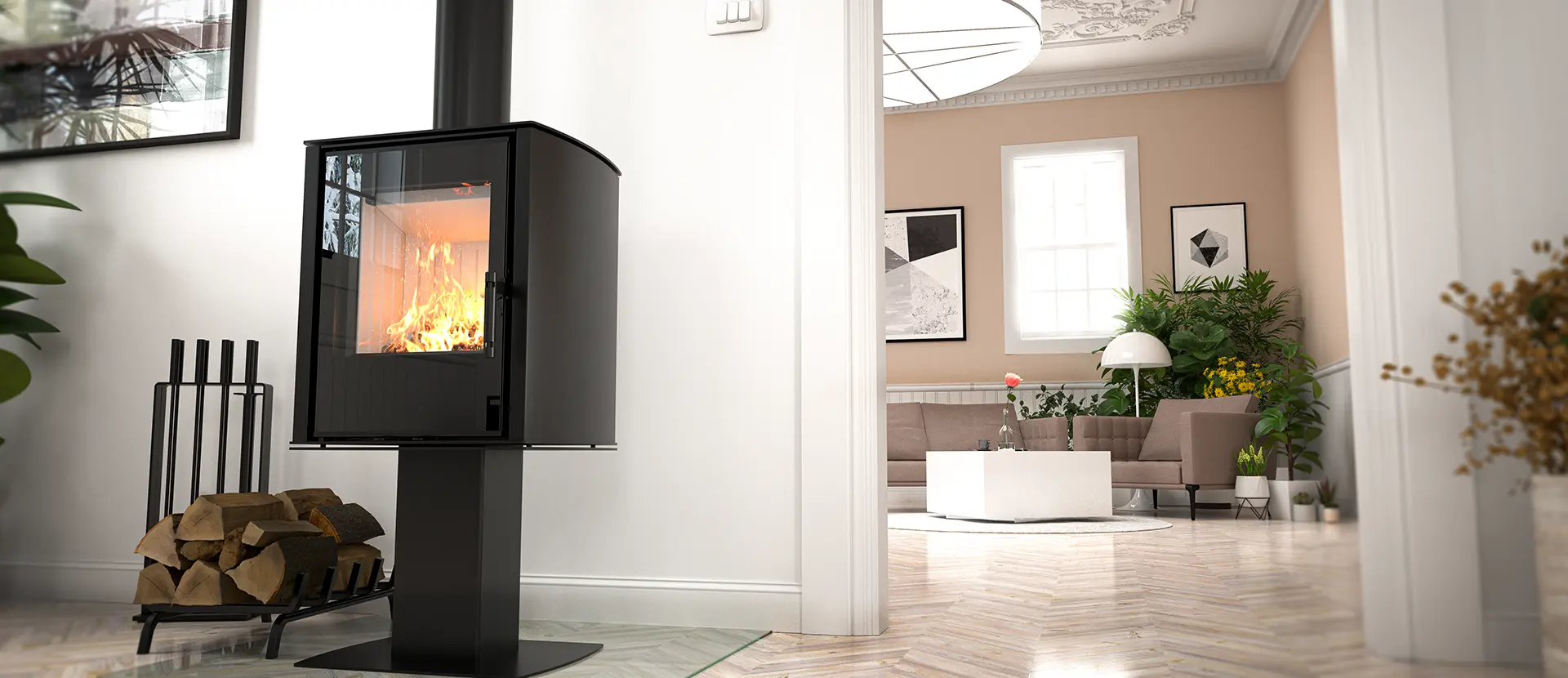 Kominki wolnostojące CANE to:
dwie całkowicie niezależne od siebie przepustnice, ułatwiające regulację ilości doprowadzanego powietrza i poprawiające komfort użytkowania pieca;
deflektor, który w połączeniu z kanałem wydłużonym dymnym sprawia, że kominek wolnostojący CANE wyróżnia się doskonałą wydajnością;
szczelna konstrukcja komory spalania oraz specjalny króciec, umożliwiający doprowadzenie powietrza z zewnątrz i tym samym kompatybilność kominka z rekuperacją;
wysokogatunkowa blacha kotłowa P265GH, gwarantująca długotrwałą żywotność oraz odporność na wahania temperatury;
łatwy w demontażu popielnik o zwiększonej pojemności, dzięki czemu możliwe jest szybkie i wygodne usuwanie popiołu;
możliwość podłączenia do systemu rozprowadzającego gorące powietrze i tym samym efektywne ogrzewanie kilku pomieszczeń.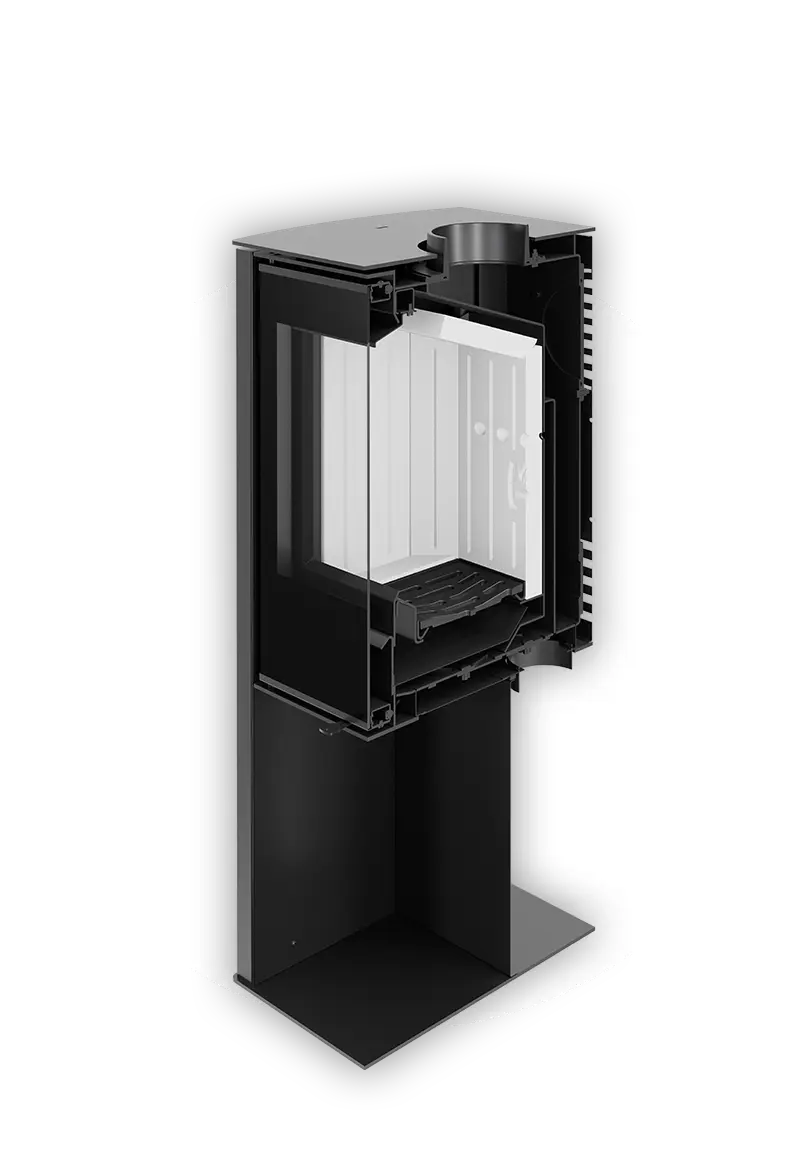 Heat pipes increase the area of heat exchange and accumulation (from 3 to 6 pcs depending on the model)
Clean glass system curtain and airbag;
Steel door made of a special profile that guarantees stiffness and high temperature durability.
Cast iron flue ø200 mm with regulation 360º guarantees tight connection of the fireplace to the chimney duct and ensures proper burning in the fireplace.
A solid steel body "30% greater weight* key components made of high-quality boiler steel P265GH with a thickness of 5 mm
Two ceramic concrete deflectors optimizes burning process due to the increase of temperature inside the chamber.
DECOR ELEGANCE glass with print Optional double glass system.
Regulated feet in the range of 4 cm. allow positioning the fireplace insert securely and stably even on the unstable surface. ADDITIONAL OPTION: raising the feet in the height of +10 cm with adjustment +/- from 3 to 5 cm.
INTEGRATED AIR INLET The air supply from the outside is realized through a single stub pipe and expansion boxes that distribute air to individual primary and secondary air intake pipes with integrated dampers.
Hinged cast iron grate EASY CLEAN for the convenience of cleaning the hearth.
Afterburning system TURBO BURN increases thermal energy volume, reduces the emission of harmful substances to the environment and improves fuel saving
Ceramic insert SIZE+ Cartridge with enlarged, deep rectangular combustion chamber giving the possibility of large loads.
Model CANE dostępny jest w dwóch wariantach. Jeden z nich to piec wolnostojący CANE S z wnęką do przechowywania drewna, która jest idealnym rozwiązaniem dla miłośników tradycyjnego stylu. Dzięki specjalnie zaprojektowanej komorze drewno może być przechowywane w pobliżu kominka, co nie tylko ułatwia dostęp do paliwa, ale również wpływa na utrzymanie porządku i tworzy przytulny klimat. Druga opcja to kominek wolnostojący CANE SF na nodze, który jest idealnym wyborem dla osób, preferujących nowoczesne rozwiązania. Taka konstrukcja nadaje pomieszczeniu lekkości i elegancji, a także ułatwia dopasowanie pieca do architektury wnętrza.
Piec wolnostojący CANE to przyjemne ciepło na dłużej
Kominki CANE zapewniają bardzo efektywne ogrzewanie wnętrza m.in. poprzez długotrwałe oddawanie ciepła. Po całkowitym wygaśnięciu paleniska, korpus pieca nadal pełni swoją rolę, uwalniając przez wiele godzin ciepło do pomieszczenia, w którym się znajduje. Ponadto dzięki zastosowaniu autorskiego materiału ACCUCERAM, kominek wolnostojący CANE doskonale akumuluje temperaturę. To znaczy, że nawet po zakończeniu wieczornego spotkania przy palenisku, można nadal cieszyć się przytulną atmosferą w danym pomieszczeniu, odczuwając wyjątkowy komfort termiczny przez kilka kolejnych godzin.
Piec wolnostojący CANE to nie tylko źródło przytulnego ciepła, ale również rozwiązanie umożliwiające skuteczne ogrzewanie kilku pomieszczeń jednocześnie. Dzięki opcji podłączenia do systemu rozprowadzającego gorące powietrze kominek doskonale sprawdza się w przestrzeniach o nieco większej powierzchni, zapewniając oszczędność energii i wygodę. Bez względu na to, czy spędza się czas w salonie, sypialni czy biurze, można cieszyć się przyjemnym ciepłem z kominka CANE.
Roztańczone płomienie w kominku wolnostojącym CANE

Each of kominek wolnostojący CANE to zaproszenie na wyjątkowy spektakl ognia. Drzwiczki tych modeli zostały wykonane m.in. z obustronnie wypolerowanego, ceramicznego szkła kominkowego. 
Zachowuje ono swoje pierwotne właściwości nawet w temperaturach sięgających 800°C. Dzięki temu uzyskano niesamowitą przejrzystość, pozwalającą na bezpieczne obserwowanie magicznego tańca płomieni.
CANE, czyli uniwersalne zastosowanie w wielu przestrzeniach
Kominki CANE zostały zaprojektowane przez markę HITZE tak, aby sprawdzały się zarówno w niewielkich, jak i średniej wielkości pomieszczeniach. Bez względu na to, czy chcemy stworzyć romantyczną atmosferę w salonie, przytulny klimat w sypialni czy relaksującą aurę w gabinecie, piec wolnostojący CANE będzie idealnym rozwiązaniem. Nowoczesny design z owalnymi bokami oraz eleganckie wykończenie tego modelu sprawia, że pasuje on zarówno do nowoczesnych, minimalistycznych wnętrz, jak i do klasycznych, tradycyjnych aranżacji. Dzięki temu można korzystać z funkcjonalności kominka CANE niezależnie od miejsca czy okoliczności.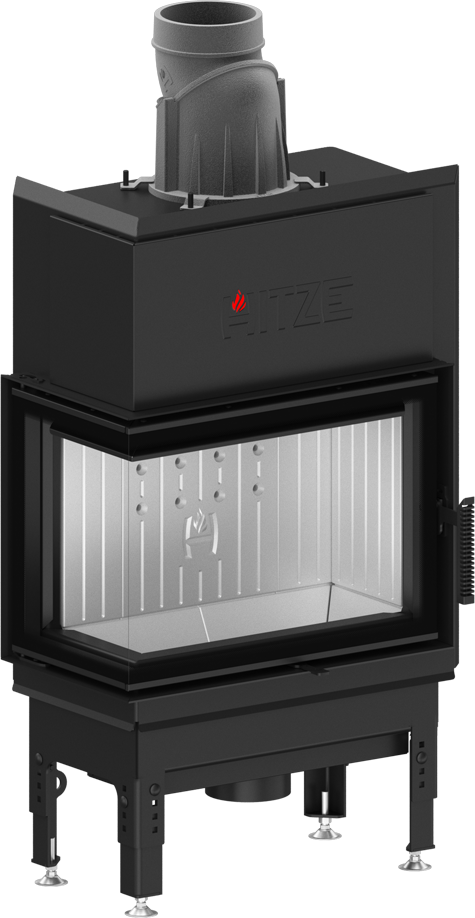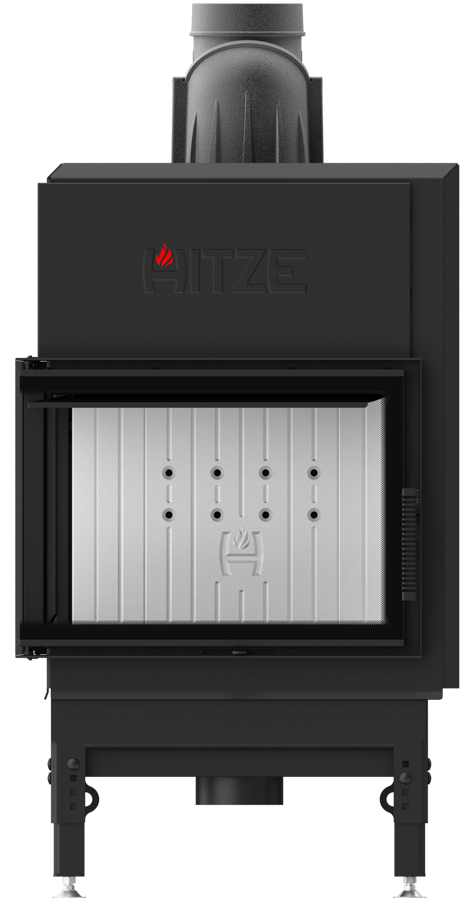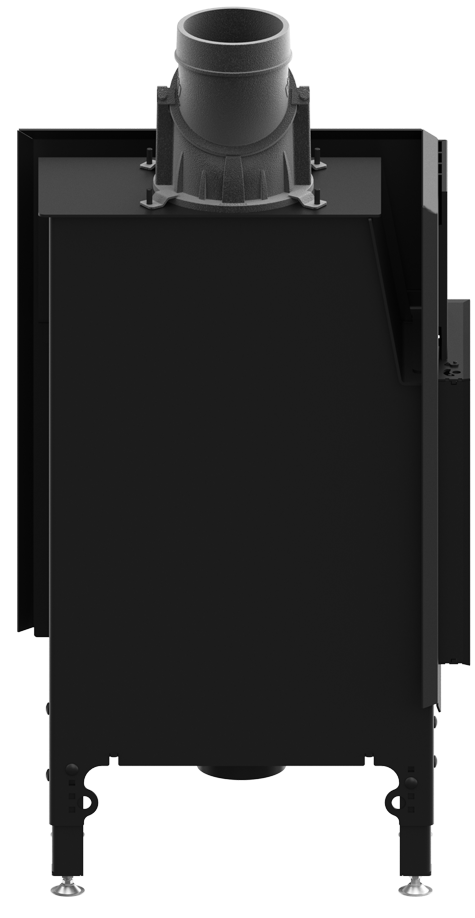 Kominek wolnostojący CANE – z myślą o ekologii

Each of piec wolnostojący CANE jest nie tylko źródłem ciepła i ozdobą wnętrza, ale również wyjątkowo przyjaznym środowisku rozwiązaniem. Dzięki innowacyjnym technologiom kominki te pozwalają na ogrzewanie pomieszczeń w sposób, który minimalizuje negatywny wpływ na naszą planetę. Wykorzystując nowoczesne systemy spalania i ponadprzeciętne właściwości akumulacyjne, modele CANE gwarantują efektywne ogrzewanie wnętrza. Spełniają przy tym normy ekologiczne, np. Ekoprojektu. Jeśli pojawią się jakiekolwiek pytania, związane z kominkami wolnostojącymi CANE – zapraszamy do kontaktu. Specjaliści HITZE chętnie udzielą informacji na temat wszystkich modeli z tej serii.