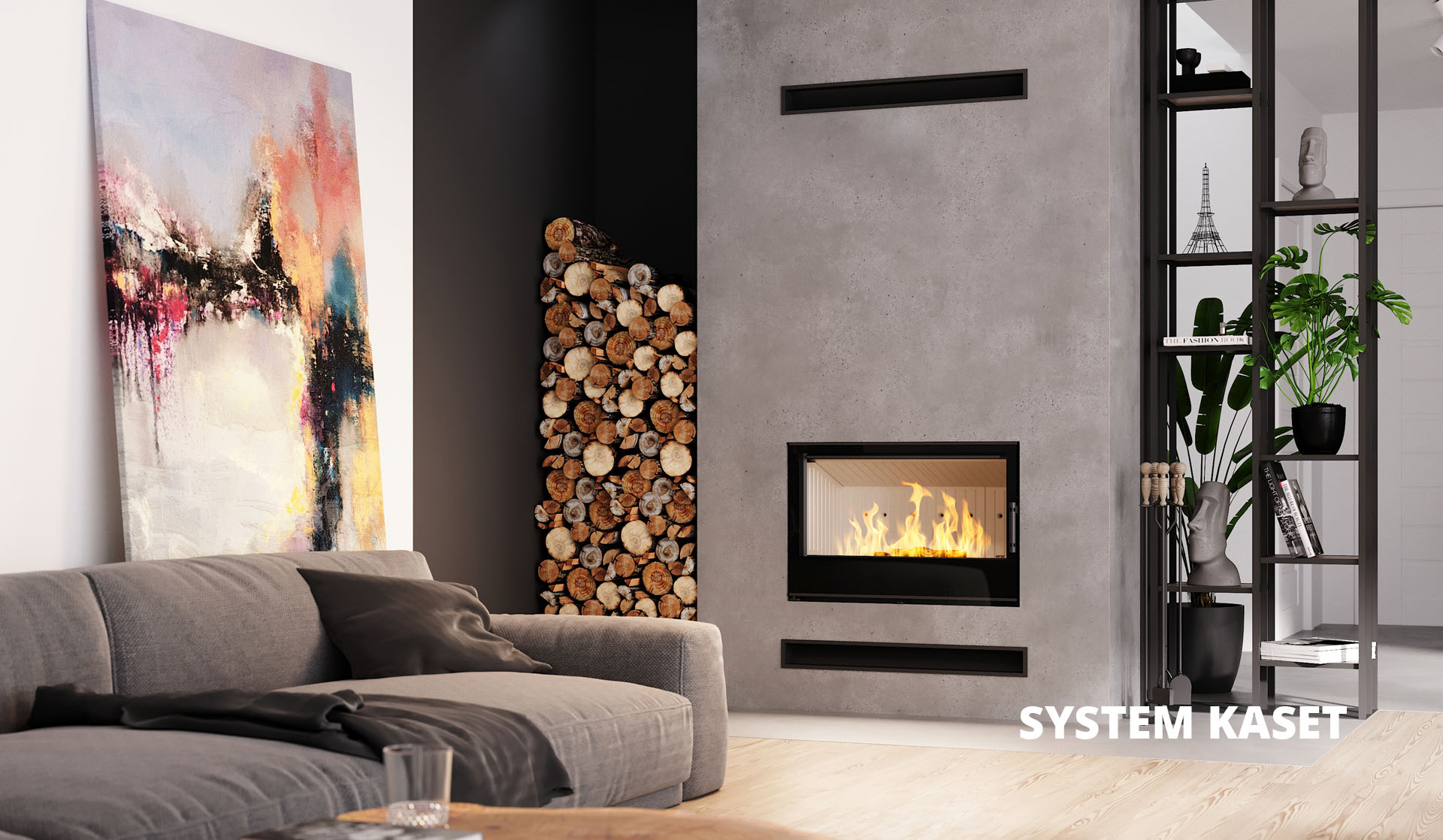 CUBO fireplace cassettes are an ideal choice for installations that use existing open fireplaces. For this purpose, the small size of the cassette's construction and the possibility of installing the flue gas exhaust from the centre of the combustion chamber are crucial. At the same time, the CUBO models make maximum use of front doors and their modern glazing. Another advantage of the CUBO model is the possibility to force air circulation around the cassette (cooling function) and to enhance the heating effect in the room.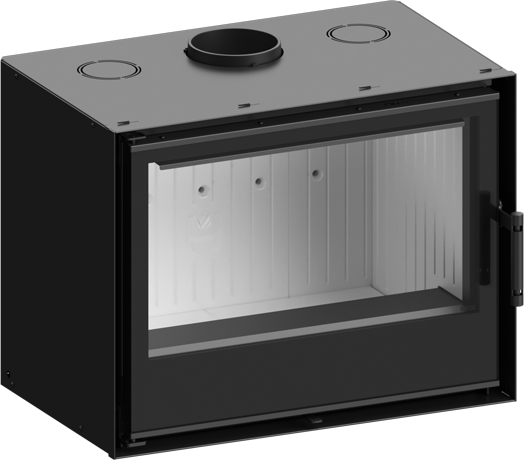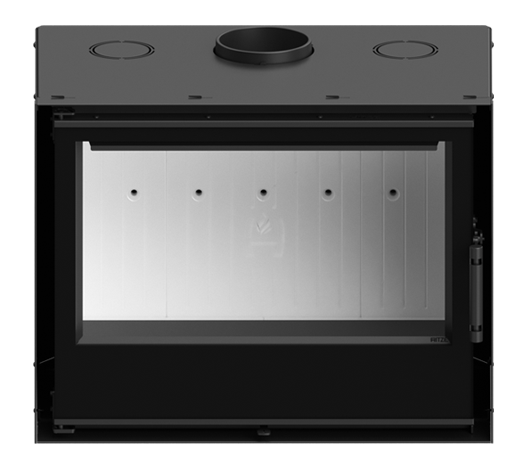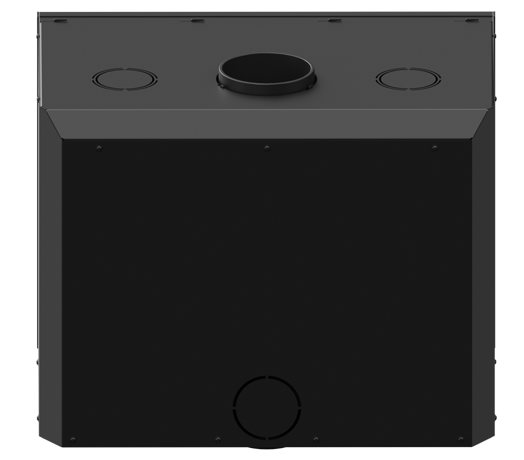 CUBO - smaller economic size
Instalacja kasety CUBO z wykorzystaniem niepalnych materiałów pozwala
istotnie zmniejszyć rozmiar obudowy
, a wbudowana opcja podpięcia systemu dystrybucji gorącego powietrza pozwala
skutecznie ogrzewać sąsiadujące pomieszczenia
. Kaseta CUBO przystosowana jest do pracy przy obciążeniu grzewczym od 4 kW co czyni ją
idealnym wyborem do domów energooszczędnych
.
Kaseta idealnie komponuje się z nowoczesnym sprzętem RTV/AGD. Piękne przeszklenie na całości drzwi to zasługa zastosowania eleganckiego czarnego nadruku na szybie kominka, bardzo popularnego w stylistyce nowoczesnych wnętrz. Jednocześnie nie ogranicza to wizji ognia, który malowniczo wypełnia całą komorę paleniska.
Not only aesthetics,
but also comfort and flexibility

CUBO fireplace cassettes, as a grateless fireplace stove, are designed to be cleaned with an ash hoover. The deepened bottom plate allows for larger loads without the risk of firewood falling out. What is more, an effective air curtain and air control guarantee that the glass is kept clean throughout the entire burning process, even when firing up and extinguishing the insert. This is also due to the smaller cubic capacity of the chamber itself, which lined with accumulation and refractory Akuceram material significantly increases the temperature in the combustion chamber.
A wysoka temperatura jest bezsprzecznie najważniejszym czynnikiem wpływającym na czystość każdego procesu spalania. Warto także zwrócić uwagę na zakres mocy regulowanej tego kominka. Nominalna moc wynosi 8 kW, ale kaseta pracuje optymalnie w zakresie już od 4 kW. Czy ni ją to idealnym wyborem do mniejszych pomieszczeń lub do domów energooszczędnych.
CUBO fireplace cassettes
also mean the folllowing:
benefits of a fan unit that increases the amount of heat radiated into the room and ensures proper cassette cooling.
cooperation with the Hot Air Distribution System, thanks to the built-in option of connecting spigots in the cassette housing.
intuitive regulation during burning with a single primary (external) and second-ary air regulator in the afterburner and air curtain.
aesthetically concealed fans and their silent operation, controlled by tempera-ture-resistant automation.
optional air supply from the outside: installation of the intake from the bottom or back of the cassette.
the possibility of connecting the flue gas outlet from the centre of the com-bustion chamber so that the cassette can be used in existing open hearths.
Building a fireplace on the basis of a cassette-type insert is an exceptionally economical solution due to the cost of purchasing the appliance itself, as well as the ease of installation and savings resulting from the use of fewer materials.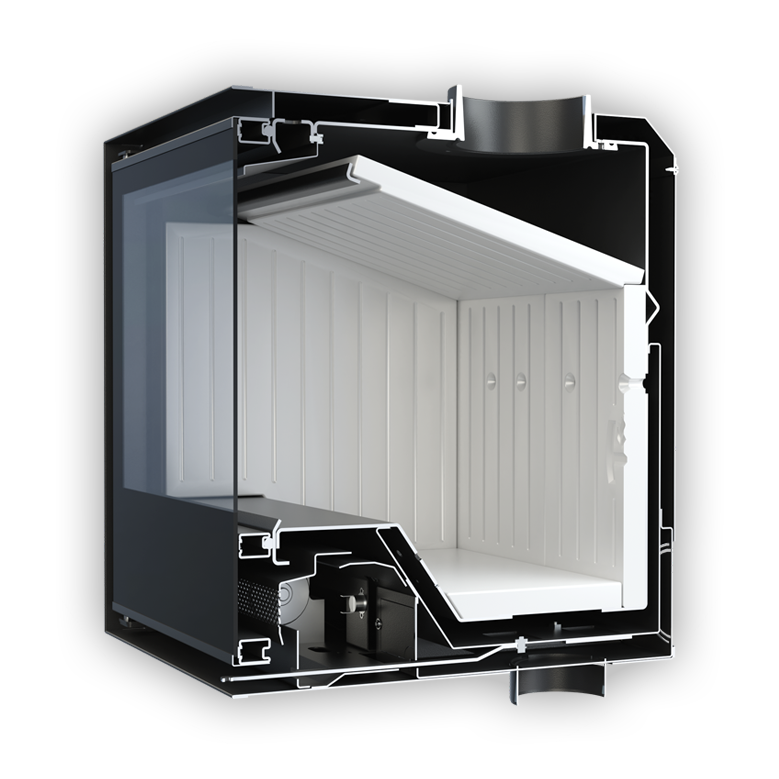 Built-in possibility to connect the cassette
to the hot air distribution system (2 x ø100 mm).
New door design with minimalist elegant Decor glass.
The flue gas exhaust mounted from the centre of the combustion chamber ø 150 mm allows for installation in existing open hearths.
The new air supply and circulation system
is a comprehensive solution that guaran-tees ecological wood burning and a beautifully clean vision of fire.
Massive and durable combustion chamber made of Akuceram significantly affects the ecology of wood burning
An automatic fan unit ensures zapewnia obieg ciepłego powietrza w pomieszczeniu* *opcjonalne, zapytaj Sprzedawcę.
Intuitive control over combustion with a single lever throttle.
The deepened, grateless fireplace is safe and allows for larger wood loads.
Air intake ø100 mm (rear or bottom mounted).
CUBO fireplace cassettes - a simple recipe for a safe and warm home

The purchase of a CUBO fireplace stove is a long-term investment and an opportuni-ty to heat rooms in an economical and ecological way. Due to its durability and time-less beauty, it will allow everyone to gain a wonderful climate in their own home.
Should you have any questions or doubts, please contact HITZE specialists - they will provide professional advice and help you to install the cartridge correctly.
Company data
Stalko spółka z ograniczoną
odpowiedzialnością spółka komandytowa
EU VAT 9482603545
REGON: 361379132
KRS: 0000836475
Address:
GENERAL:
ul. Solec 24/253,
00-403 Warszawa
OFFICE / WAREHOUSE:
Gdyńska street 32
26-600 Radom