Biokominki to niezwykle stylowe rozwiązanie do wnętrz, które zdobywa coraz większą popularność wśród miłośników wyjątkowego designu i przytulnej atmosfery w domu. Jednak estetyka tego typu wyposażenia to nie wszystko. Wiele osób zwraca również uwagę na jego funkcjonalność, zastanawiając się, czy biokominek ogrzewa pomieszczenie. Rozwiewamy wszystkie wątpliwości! Opisujemy działanie takich urządzeń oraz ich wpływ na temperaturę we wnętrzach. Sprawdź, czy biokominek daje ciepło.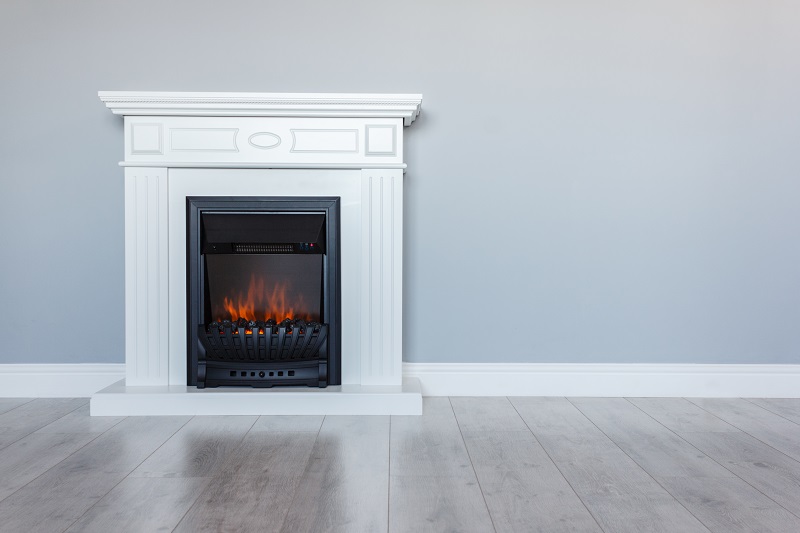 Jak działają biokominki?
Zanim jeszcze odpowiemy na pytanie, czy biokominek grzeje, warto najpierw zrozumieć zasadę jego działania. Nowoczesne modele różnią się od tradycyjnych kominków opalanych drewnem lub gazem oraz elektrycznych grzejników pod wieloma względami.
Najważniejszą różnicą jest to, że nie wymagają podłączenia do instalacji gazowej ani elektrycznej. Zamiast tego działają na biopaliwo, które jest zwykle w formie płynu lub żelu na bazie alkoholu etylowego. Biopaliwo spala się w kominku, wytwarzając płomienie, stanowiące źródło światła i ciepła.
Tego typu urządzenie nie wymaga również specjalnej instalacji odprowadzania spalin. Można więc montować je nie tylko w domach, ale także mieszkaniach. Bio-fireplaces są często wybierane ze względu na atmosferę, jaką zapewniają we wnętrzach. Wytwarzane płomienie pięknie się prezentują, stając się doskonałym elementem dekoracyjnym w każdym domu lub mieszkaniu.
Biokominek – czy ogrzewa pomieszczenie?
Pytanie, czy biokominek grzeje, jest często źródłem kontrowersji. Odpowiedź brzmi: tak, ale w pewnym ograniczonym stopniu. Takie urządzenie wytwarza ciepło, ale jego wydajność w zakresie ogrzewania pomieszczeń jest niższa do tradycyjnych źródeł – np. kominków gazowych czy modeli opalanych drewnem.
Nie oznacza to jednak, że w chłodniejszych porach roku nie warto stawiać na biokominek. Czy ogrzeje on wnętrze salonu lub gabinetu do pracy? Tak – może podnieść temperaturę w danym pomieszczeniu nawet o kilka stopni.
Nowoczesny biokominek – ile ciepła daje?
Wyjaśniliśmy już, czy biokominek ogrzewa wnętrza. Bardzo często pada także pytanie o wydajność takiego urządzenia. To, ile ciepła daje biokominek, zależy od kilku czynników. Po pierwsze, duże znaczenie ma rodzaj oraz ilość użytego biopaliwa. Różnią się one pod względem zawartości alkoholu i tym samym energii, jaką mogą wygenerować. Ważna jest również wielkość pomieszczenia, w którym znajdzie się urządzenie oraz jakość izolacji termicznej budynku.
Ile ciepła daje biokominek? Dobre modele mają moc na poziomie 2-4 kW. To więcej, niż generuje standardowy elektryczny grzejnik pokojowy. Biokominki są więc w stanie wytworzyć wystarczającą ilość ciepła, aby ogrzać niewielkie pomieszczenie, takie jak salon czy sypialnia, zwłaszcza w okresach przejściowych – jesienią lub wczesną wiosną, gdy temperatury na zewnątrz budynków nie spadają znacznie poniżej zera.
Czy biokominek grzeje po wygaszeniu?
Piece opalane drewnem często jeszcze kilka godzin po wygaszeniu płomieni oddają ciepło do wnętrza, w którym się znajdują. Czy biokominek grzeje w ten sam sposób? Zdolność do akumulowania ciepła zależy od materiałów, z których wykonany jest konkretny model. Większość popularnych biokominków ma komorę ze stali lub szkła. To materiały pozbawione dobrych właściwości akumulujących ciepło.
Jeśli zależy Ci na tym, by biokominek oddawał ciepło po wygaszeniu płomieni, wybierz model z ceramiki lub kamienia. Możesz także dokupić ceramiczne polana, pozwalające dłużej utrzymać wyższą temperaturę.
Kiedy można wykorzystać biokominek do ogrzewania wnętrz?
Wiesz już ile ciepła daje biokominek. Mimo, że nie będzie to główny element ogrzewania w Twoim domu, nadal może być przydatny w wielu sytuacjach. Doskonale sprawdzi się jako uzupełnienie istniejącego systemu grzewczego, zwłaszcza w okresie przejściowym, gdy nie potrzebujesz pełnej mocy grzewczej.
Biokominek może także podnosić temperaturę w pomieszczeniach, które nie mają dostępu do tradycyjnych źródeł ciepła. Ponadto stanowi doskonałą alternatywę dla elektrycznych grzejników pokojowych, mając nad nimi istotną przewagę – wyjątkowy design, który sprawia, że biokominek staje się ozdobą każdego wnętrza.