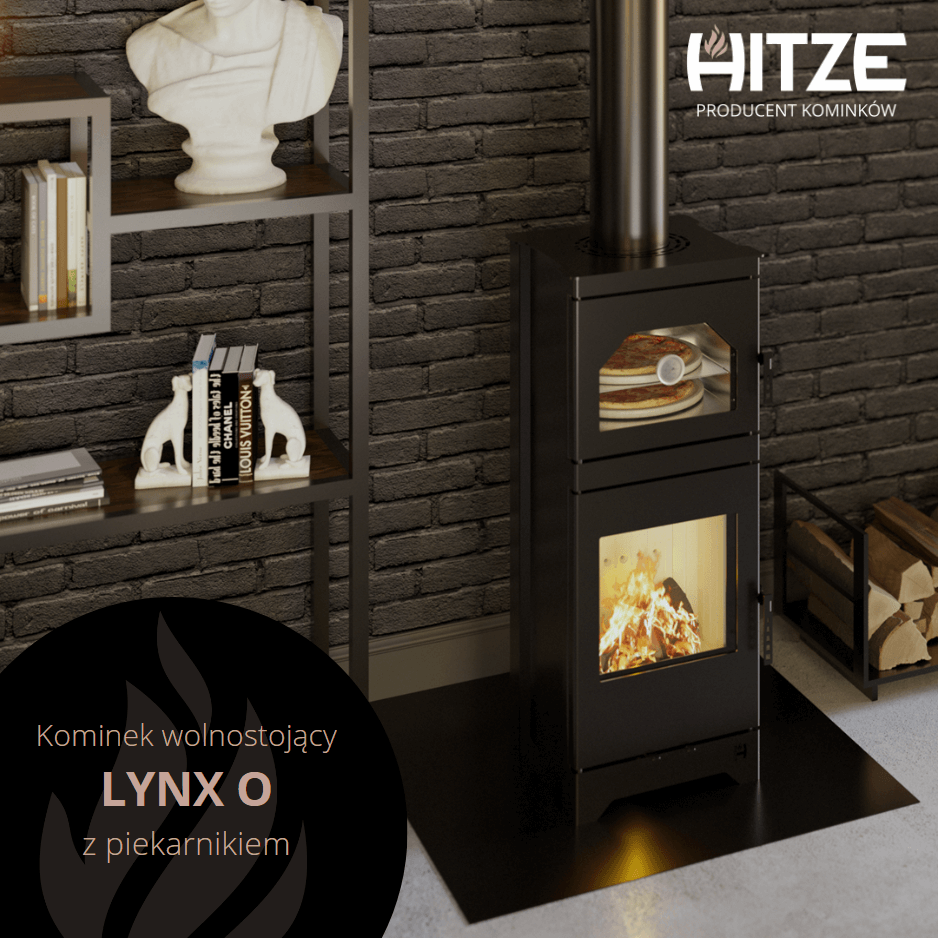 Kominek wolnostojący LYNX O z  piekarnikiem. 

Today we are proud to present to you a novelty from HITZE - LYNX O free-standing fireplace with additional oven.
Yes, you read that right.
This is not only an elegant and practical heating goat, but also an oven that is sure to benefit lovers of homemade pizzas and more!
Versatility and Design: LYNX O
LYNX O combines modern design with practicality and versatility.
Made of high-quality materials, this free-standing fireplace type goat with additional oven is designed not only for open spaces, but also for wall niches, giving users greater design options.
And on top of that, it's eco-friendly and energy efficient!

Technology and Functionality
Thanks to cast-iron flueWith a grate and decor glass as standard, the LYNX O impresses with its elegance and functionality. The combustion chamber is lined with acubet, a material that accumulates heat and raising the temperature in the combustion chamberThis makes it possible to burn soot and ashes thoroughly. The flue outlet can be made either at the top or at the back of the fireplace, which further increases the design possibilities.
LYNX O is also suitable for connection to a DGPwhich makes it even more versatile. Two independent levers allow precise adjustment of the primary and secondary air supply, which is crucial for optimum combustion efficiency.
And finally - oven. It is positioned above the combustion chamber and its interior is made of stainless steel, which guarantees durability and easy maintenance.
Environmental and energy efficiency: LYNX O
LYNX O is a free-standing fireplace with an oven that not only offers high combustion efficiencybut also meets strict environmental requirements. It has received energy class A+ and complies with the European Commission's ecodesign guidelines in Regulation 2015/118. In addition, it meets the German BImSchV II and Austrian 15a B-VG standards.

Of course, design is just as important as functionality. LYNX O has been covered High-quality, high-temperature paintwhich gives the fireplace an elegant appearance and protects it from external influences. The fireplace glass with air curtain, polished on both sides, maintains its transparency even in the temperatures as high as 800°C.
An oven positioned above the combustion chamber is an additional functionality that allows the simultaneous baking and heating. The stainless steel oven interior ensures durability and easy cleaning.
Thus, LYNX O is a fireplace that combines elegance, functionality, and modern and ecological solutions. Without a doubt, it will be a great addition to any interior and will allow you to bake your favourite homemade pizza!

Do you have a question?
Ask our specialists!
Do you want to know more about HITZE's offer or have any doubts?
Contact our specialists who will answer all your questions!
Company info:
Stalko limited liability company
limited partnership
EU VAT: 9482603545
REGON: 361379132
Number in the National Court Register KRS: 0000836475
Address:
GENERAL:
Solec Street 24/253
00-403 Warsaw
OFFICE / WAREHOUSE:
Gdyńska Street 32
26-600 Radom