The line of elegant FEUNTE Q garden heaters is characterized by a classic design. This solution is chosen by people who like simple patterns and uncomplicated geometry.
| | |
| --- | --- |
| | Find a Distributor |
Garden and patio heaters are the perfect solution for all lovers of relaxation and spending time outdoors. If you have a garden, a spacious terrace or patio, a garden heater will allow you to spend many hours in it during cold days and evenings. Gas heaters are also an ideal solution for restaurants, hotels, wedding houses or organizers of outdoor events. Not only do they look beautiful, but they also attract guests so that they can warm themselves with the warmth and glow of the fire.
Climate garden heaters - FUENTE Q
The line of elegant FEUNTE Q garden heaters is characterized by classic build. This solution is chosen by people who like simple patterns and uncomplicated geometry. The furnace chamber is in the shape of a cuboid, painted with black paint  giving the block a chic look. Above it, there are glass panels that protect the hearth from wind and rain from four sides and from the top.
The garden heater produces a natural, pleasant warmth, which is felt even several meters away. In addition, it gently illuminates the space in which it is placed. Powered by gas from a 11 kg cylinder, it can continuously work up to 55 hours. The intensity and length of work depends on the set flame power, which can be adjusted in 7 ways.
FUENTE Q gas fireplace
The original design of the gas burner used in the gas heater, supported by the automation of one of the renowned European manufacturers, guarantees durability, safety and trouble-free operation of the device. Thanks to this combination, we have obtained a natural vision of fire that enriches and makes any space more attractive.
Gas garden heaters - how do they operate?
Depending on the option you choose, you can operate the heater manually or remotely using remote. Regardless of your choice, it takes no more than 5 seconds.
Manual operation is carried out using a control panel, mounted directly on the device . Convenient access to it means that you do not have to unscrew any covers or open the inspection door. Thanks to the uniform construction, the device looks the same from all sides and is not marred by any additional flaps. Remote operation with the remote control is as intuitive and simple as the manual one.
By choosing each of the above options, you can adjust the intensity and power of the gas heater flame in the range of up to 7 heights. 
Usability and safety in FUENTE Q gas heaters  
Depending on where you place your gas heater - on the terrace, balcony, or patio - it is exposed to various atmospheric conditions. It often operates in damp conditions, where rust can easily occur. We've also thought about this! Our devices They are coated with a special paint coating, which protects them against corrosion. All connecting elements like screws are hidden inside, thanks to which they are not exposed to direct contact with moisture and steam. And most importantly, burner and elements that come into direct contact with the fire have been made of boiler plateIt is resistant to large temperature fluctuations. 
Since gas heaters are placed on various surfaces - more or less even - the set includes adjustable feet that will make it easier to level them.
The aforementioned glass panels covering the combustion chamber are made of tempered glass. This guarantees safe operation fireplaces with live fire, but also increases resistance to mechanical damage.
In case of temporary or permanent flame failure, gas heaters are equipped with thermocouple sensors that completely shut off the gas.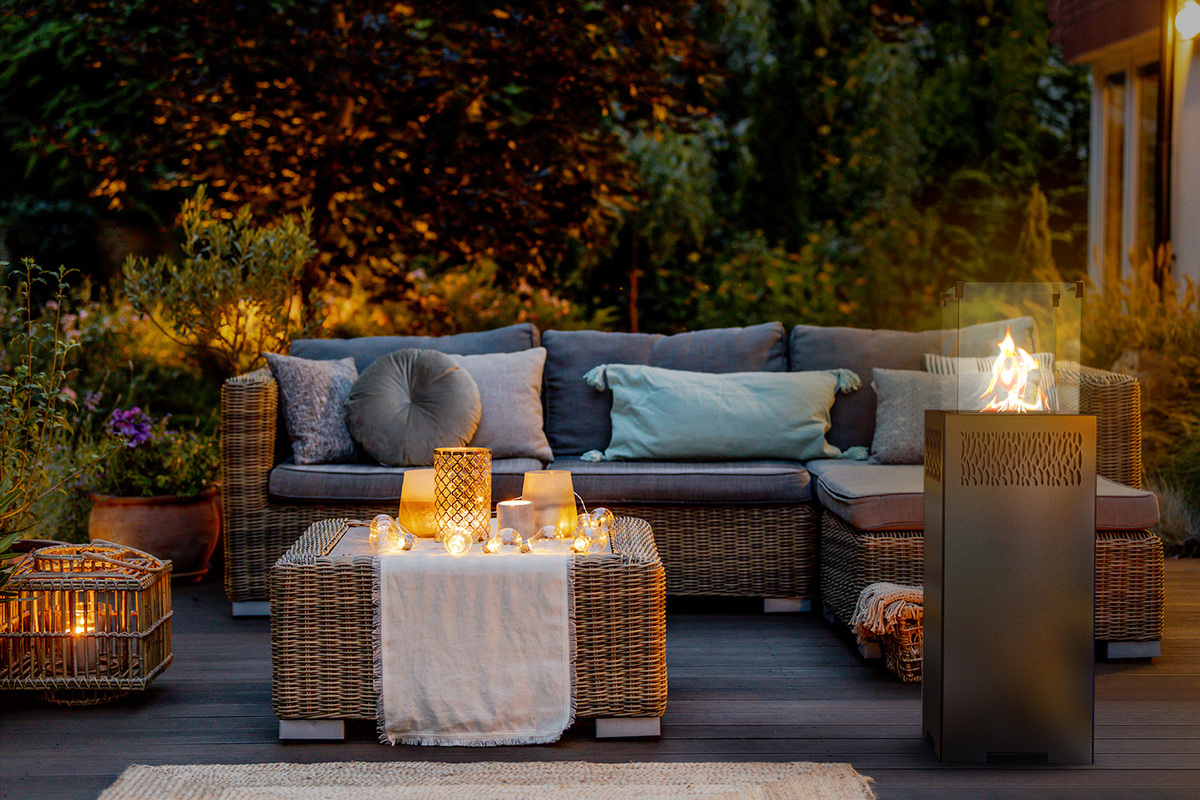 | | |
| --- | --- |
| Fuel type | Gas mixture propane butane, propane gas |
| Nominal power (kW) | 5,7 |
| Minimum power (kW) | 3,2 |
| Maximum gas consumption (kg/h) | 0,36 |
| Minimum gas consumption (kg/h) | 0,20 |
| Fabrication material | P265GH boiler steel according to EN 10028-2 |
| Weight (kg) | 53 |
| Width x height x depth measurements (mm) | 437 x 1375 x 437 |
| Control valve | Anstoss TESC01 |
| Control | Control panel / Remote control (optional) |
| Power supply | Batteries / Power adapter (optional) |
| Guarantee | 2 years |