Alternative to the traditional fire pit.
Stylish Garden Fireplace with a Lattice Pattern.
Attracts attention with its original appearance and meticulous finish.
| | |
| --- | --- |
| | Find a Distributor |
Hogar Garden Fireplace
Garden fireplaces have become an integral part of modern outdoor spaces, offering not only functionality but also an incredibly positive impact on the aesthetics of the surroundings. Among the many options available on the market, one stands out. garden fireplaces Hogar HITZE brand. This unique combination of innovative design and high-quality craftsmanship makes the dancing flames an instant centerpiece in any garden, terrace, or patio. Hogar Fireplace It will be an ideal choice for all individuals who want to spend evenings outdoors surrounded by pleasant warmth in a unique atmosphere.
Hogar Fireplace - an ornament for every outdoor space.
Hogar is a safe, modern alternative to traditional bonfires or grills, serving both practical and decorative functions. Produced by the renowned HITZE brand. garden fireplaces They will adorn every garden, patio, terrace, and many other outdoor spaces, making evenings enjoyable from early spring to late autumn.
One of the most important advantages of the presented fireplace Hogar The meticulous finishing and incredibly designer pattern immediately catch the eye. The lattice design adds lightness and modernity, making it a stylish ornament in a natural environment. The black color of the steel, from which the described model is made, blends well with almost any outdoor space arrangement - it looks great, for example, combined with natural colors.
Regardless of whether we are hosting a summer party by the pool, having a romantic dinner on the terrace, or simply relaxing on our patio, garden fireplaces Hogar It will enhance this time, creating a cozy atmosphere and providing pleasant warmth.
Hogar Garden Fireplace - the combination of aesthetics and functionality.
The practical and decorative features of the presented fireplace go hand in hand. The Hogar model is designed with maximum user convenience in mind. The upper part is removable, allowing for easy cleaning and maintenance to keep the fireplace in perfect condition. The interior can be quickly loaded with fuel (wood, charcoal, or charcoal briquettes, up to 3.5 kg) and then ignited. The distinctive oval design garden fireplaces Hogarensures even distribution of heat around - a large number of people can warm up by it without unnecessary crowding.
Additionally, as an option, a separate stainless steel grate is available. With it, you can conveniently prepare Hogar fireplace You can prepare many delicious grilled dishes without the need to buy a separate device. It saves space and money. The securely mounted grate made of sturdy materials will remain in excellent condition for a long time - it is easy to clean.
Hogar Fireplace for years - high-quality craftsmanship
The HITZE brand, known for innovative solutions and excellent quality, ensured that garden fireplaces Hogar It has been made from the finest materials. The construction is crafted from high-grade boiler steel (P265GH), which is extremely durable and resistant to weather conditions - the fireplace can be kept outside the building even when it's raining. This model will successfully fulfill its functions for many seasons.
It is also worth emphasizing its stability. Thanks to the appropriate weight and sturdy legs, fireplaces Hogar nie zostanie np. przewrócone przez silny podmuch wiatru, co wpływa na bezpieczeństwo użytkowania. Jeśli pojawią się jakiekolwiek pytania, związane z prezentowanym modelem – zapraszamy do kontaktu. Hogar Garden Fireplace to doskonała alternatywa dla tradycyjnego grilla, ekskluzywna dekoracja przestrzeni zewnętrznej oraz sprawdzony sposób na ciepło w chłodniejsze noce na tarasie.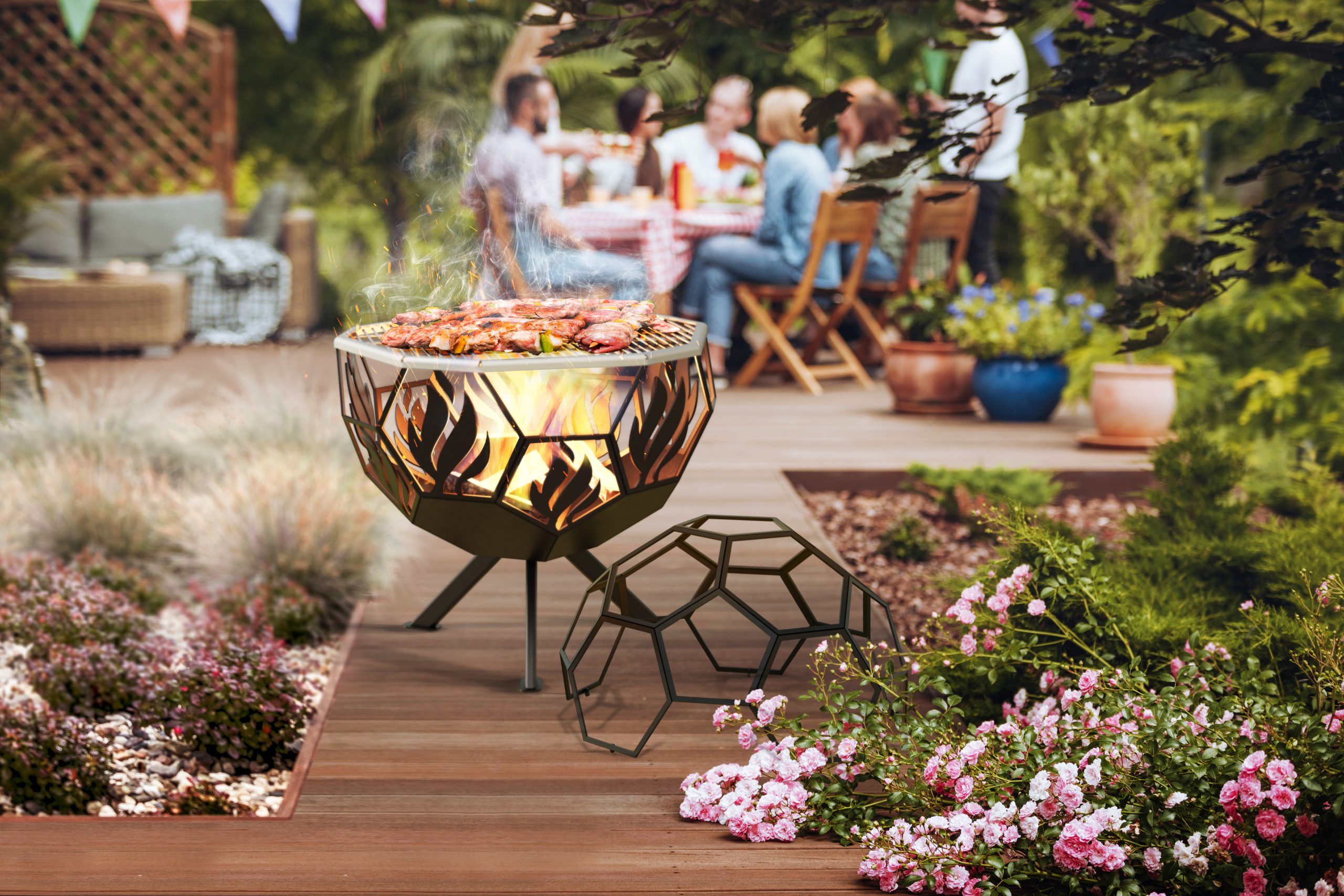 | | |
| --- | --- |
| Material | stal kotłowa 4mm gatunku P265GH według EN 10028-2 |
| Measurements (mm) | 810 x 735 |
| Weight (kg) | ok 32 |