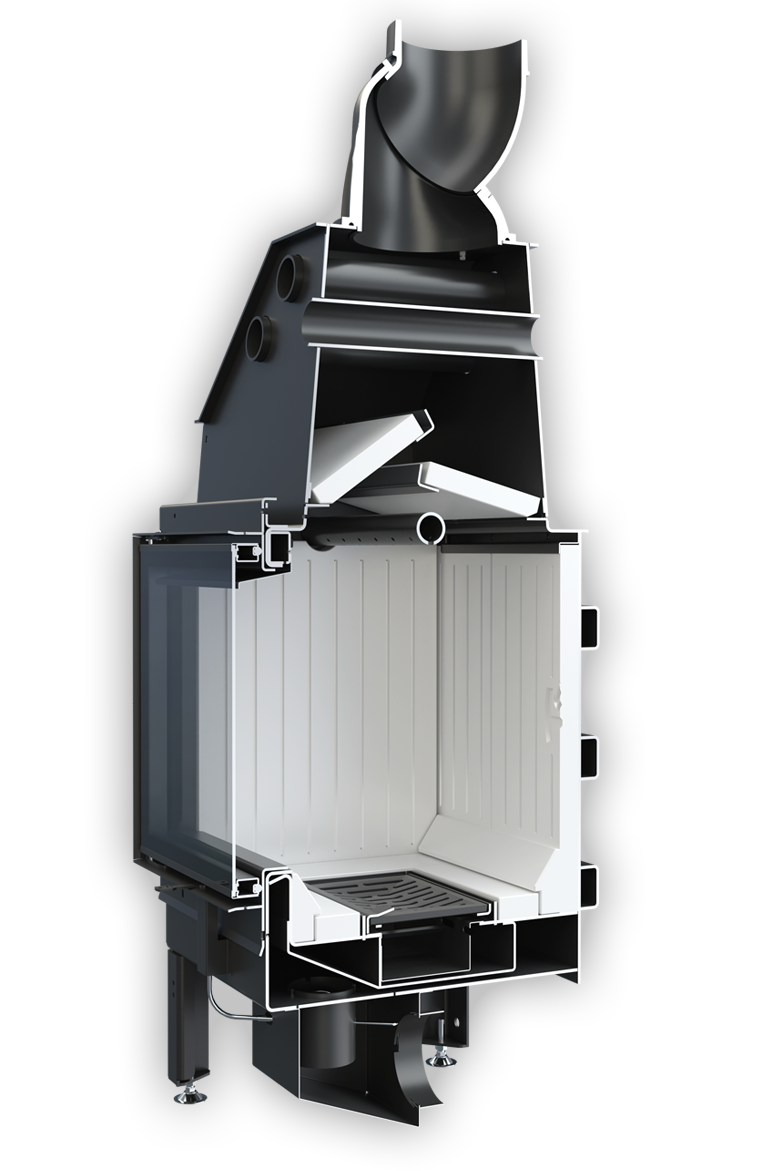 Heat pipes
increase the area of heat exchange and accumulation (from 3 to 6 pcs depending on the model)
Clean glass system
curtain and airbag;
Steel door
made of a special profile that guarantees stiffness and high temperature durability.
Cast iron flue ø200 mm with regulation 360º
guarantees tight connection of the fireplace to the chimney duct and ensures proper burning in the fireplace.
A solid steel body
30% more weight*
key elements made from high-grade P265GH boiler plate 5 mm thick
Two ceramic concrete deflectors
optimizes burning process due to the increase of temperature inside the chamber.
DECOR ELEGANCE glass with print
Optional double glass system.
Regulated feet
in the range of 4 cm. allow positioning the fireplace insert securely and stably even on the unstable surface. ADDITIONAL OPTION: raising the feet in the height of +10 cm with adjustment +/- from 3 to 5 cm.
INTEGRATED AIR INLET
The air supply from the outside is realized through a single stub pipe and expansion boxes that distribute air to individual primary and secondary air intake pipes with integrated dampers.
Hinged cast iron grate EASY CLEAN
for the convenience of cleaning the hearth.
Afterburning system TURBO BURN
increases thermal energy volume, reduces the emission of harmful substances to the environment and improves fuel saving
Ceramic insert SIZE+
Cartridge with enlarged, deep rectangular combustion chamber giving the possibility of large loads.