The FUENTE V garden heater is perfect for both individual home gardens and restaurant gardens or patios.
| | |
| --- | --- |
| | Find a Distributor |
Looking for a decoration for your garden that will be a source of warmth and light at the same time? Do you want to extend the summer in your garden? Bet on the gas garden heater FUENTE V, which fits perfectly both in individual home gardens and by restaurant gardens or patios.
Gas garden heater vibes
FUENTE V is a modern and elegant gas heater powered by a cylinder, which provides users with an amazing vision of fire. Compared to other products of this type, it stands out with its interesting, unconventional shape. Its base, narrow at the base, widens upwards, resembling the letter V. Thanks to this, it looks very neat and gives the impression of lightness. The whole is topped with a glass hearth chamber that protects the fire from five sides. This construction of the chamber ensures that the flame will not be blown out and will not be susceptible to external conditions.
Gas heater garden FUENTE V, can also be placed on the terrace or in the patio. In each of these places, it will give warmth to people nearby both on cold spring, summer and autumn evenings. The FUENTE V line of gas heaters can operate on one 11 kg gas cylinder, continuously for up to 55 hours.
Vision of fire in FUENTE V gas heaters
Gas burners used in gas heaters is our proprietary design characterized by high durability and safety, which, combined with the automation of one of the renowned European manufacturers, allows you to obtain an amazing vision of fire pleasing even the most demanding eye. The flame that forms in the hearth does not smoke and does not stain the glass. Thanks to this, your vision of fire is not only always perfect , but also looks very natural.
How does the FUENTE V garden heater work? 
Igniting the FUENTE V gas heater It can be done manually using the controller located directly on the heater or by using a remote control. In the case of a vented device From the moment you press the start button, within 5 seconds a beautiful fire will appear, which you can adjust. Depending on the mood, amount of light, or warmth you need, you can choose one of a beautiful fire will appear, which you can adjust. Depending on the mood, amount of light, or warmth you need, you can choose one ofIf, however, you decide that the gas heater's operating time has come to an end, you can turn it off at any moment with just one click.   
You can level the gas heater thanks to the adjustable feet. The panels that cover the combustion chamber are made of tempered glass, which has increased resistance to mechanical damage and is resistant to heat.
Modern control system has a thermocouple sensor that cuts off the gas supply to the device when the flame goes out.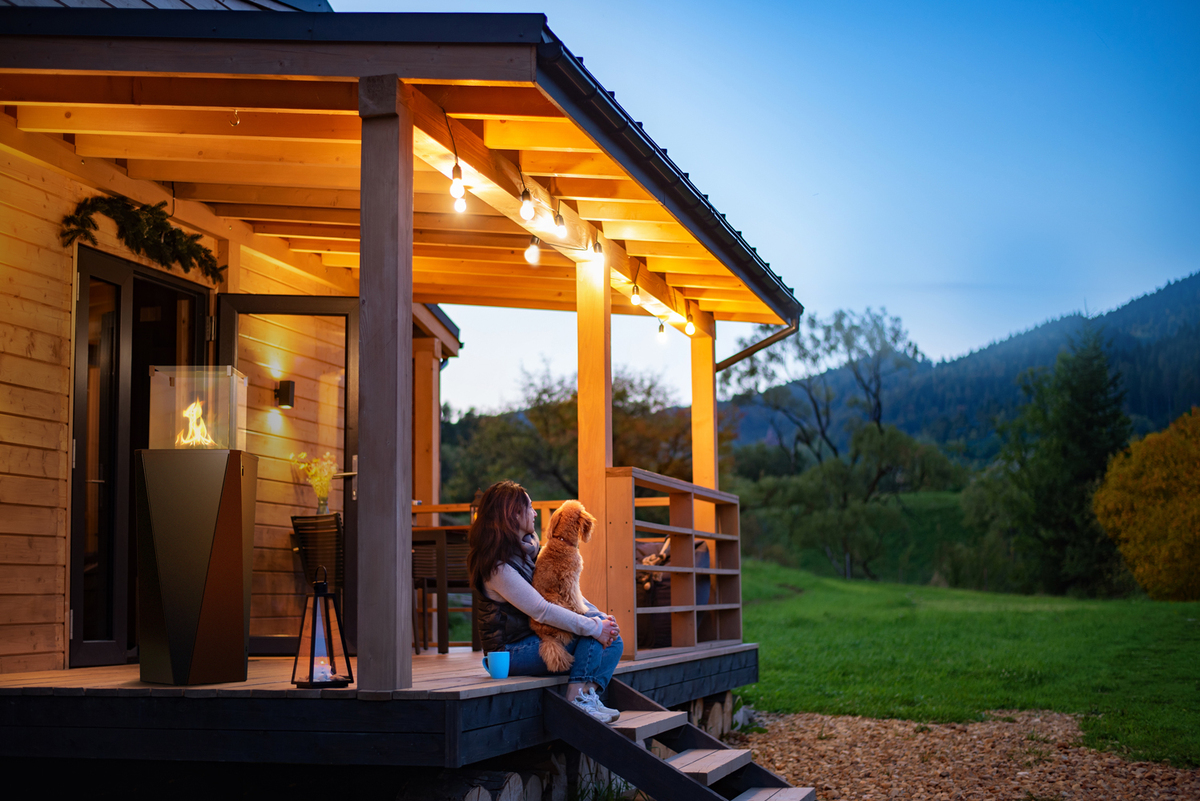 | | |
| --- | --- |
| Fuel type | Gas mixture propane butane, propane gas |
| Nominal power (kW) | 5,7 |
| Minimum power (kW) | 3,2 |
| Maximum gas consumption (kg/h) | 0,36 |
| Minimum gas consumption (kg/h) | 0,20 |
| Fabrication material | P265GH boiler steel according to EN 10028-2 |
| Weight (kg) | 49 |
| Width x height x depth measurements (mm) | 464 x 1374 x 464 |
| Control valve | Anstoss TESC01 |
| Control | Control panel / Remote control (optional) |
| Power supply | Batteries / Power adapter (optional) |
| Guarantee | 2 years |