Exclusive garden, patio, terrace decoration.
Functional and decorative feature.
| | |
| --- | --- |
| | Find a Distributor |
Garden fire pit Torre
When the sun sets, there's hardly a more atmospheric solution than the warm glow of fire dancing among friends and loved ones. Garden fire pit Torre It is designed to make those outdoor moments unforgettable. It's not just a source of warmth, but also a sophisticated decoration for outdoor spaces that will enhance any garden, terrace, or patio. HITZE outdoor fire pits are synonymous with the highest quality and innovative design. Torre is no exception. Built with solid materials and years of experience in steel processing, this model combines durability, aesthetics, and user convenience.
Torre fire pit - a functional feature that catches the eye.
Steel garden fireplaces They provide a safe and modern alternative to traditional fire pits or grills. They not only serve a functional purpose but also make an excellent decoration for any garden, patio, or terrace.
Garden fire pit TorreWith its slender and tall form, it will catch the eye of all guests. It will stand out against, for example, the arrangement of the backyard space, blending perfectly with the natural surroundings. It will bring a unique charm and warmth to the garden. The modern design and meticulous finishing will ensure that it Torre fire pit It will become the star of many long evenings - whether we're hosting a gathering with loved ones or simply relaxing after a long day in an intimate atmosphere.
Modern garden fire pit Torre - a reliable source of warmth
Garden fire pit Torre It is not only a decorative element but above all a source of heat that allows for extending pleasant evenings outdoors. Regardless of the temperature, you can enjoy a comfortable warmth while sitting around the fire pit in the company of loved ones. It is a perfect way to create a unique atmosphere. The Torre model, thanks to its exceptionally well-designed and thought-out construction, efficiently radiates heat to its surroundings. It will successfully fit into spaces such as:
private gardens, terraces, and patios

recreational spaces

restaurants and cafes with outdoor seating

relaxation areas in hotels, e.g. by the pools

holiday resorts

accommodations on campgrounds

allotment gardens
Torre Fire Pit - convenient use and additional functionalities
All HITZE garden fire pits are designed with safety, comfort, and durability in mind. Made from high-quality boiler steel, designed to withstand high temperatures, they guarantee years of trouble-free use and withstand the impact of weather conditions. Lighting the fire is very easy in them, just like cleaning the entire structure. Additionally, Torre fire pit It has a spacious wood storage compartment, ensuring that the fuel is always within reach.
Garden fire pit Torre It can serve not only for heating but also as a classic grilling equipment. With additional accessories like a stainless steel grill grate or a special shelf, you can prepare delicious dishes over an open fire or even use a cauldron. There's nothing stopping you from experimenting with various cooking techniques.
In case of any questions or doubts related to the presented. Garden fire pit Torrewe encourage you to contact the specialists from the HITZE brand. They will be happy to provide knowledgeable answers, as well as assist you in choosing the best outdoor equipment.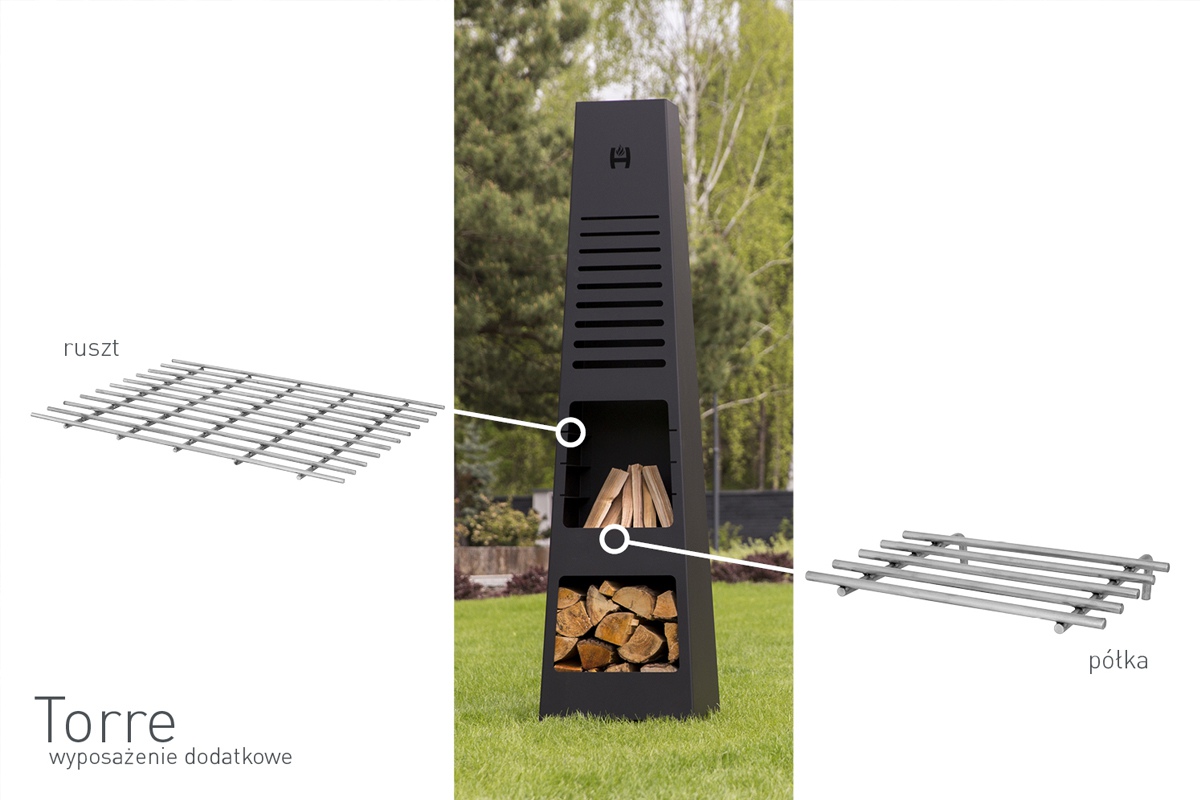 | | |
| --- | --- |
| Material | P265GH boiler steel grade according to EN 10028-2 |
| Measurements (mm) | 2000 x 503 x 376 mm |
| Weight (kg) | ok 73 |