Panoramic vision of fire
Decorative glass as standard
An alternative to a traditional fireplace
Clean burning without smoke
Environmentally friendly
Increased capacity of the bio-insert
Refueling made easy
Made in accordance with EN 16647
Intended for installation in a wall recess
| | |
| --- | --- |
| | Find a Distributor |
SWING bio fireplace is an elegant device that is able to create an amazing atmosphere in any room. Due to its design SWING bio fireplaceis intended for installation in a dedicated wall niche. Rozwiązanie tego typu cieszy się bardzo dużą popularnością ponieważ tak zainstalowane urządzenie jeszcze bardziej kojarzy się z tradycyjnym kominkiem na drewno. 162 / 5 000 Wyniki tłumaczenia Tłumaczenie . This type of solution is very popular because the device installed in this way is even more associated with a traditional wood fireplace.
Panoramic design bio fireplace and wave-shaped burner provide an amazing vision of fire. SWING bio fireplace was equipped with original slim biocontainer, o increased capacity, extending the burning time up to 4 hours. When designing the biocontainer, its functionality was increased by introducing removable coverwhich greatly facilitates the process of replenishing biofuel. The lid of the biocontainer has been marked with legible pictograms, affecting the safety of using the biofireplace. Together with the bio fireplace, the user gets a dedicated screensaver with a handle. The biocontainer itself has an absorbent insert that protects the biofireplace from spilling fuel in the event of inadvertent tilting of the device.
SWING bio fireplaceIt has a minimalist, rectangular shape that facilitates the creation of a dedicated wall recess. Along the outer edges of the unit, there is an additional collar that can conceal imperfections of the wall in which the device is installed
The body of the bio fireplace has been made of boiler sheet metal" P265, which has been applie high-temperature fireplace paint, capable of withstanding temperatures up to 600 °C. Openings have been provided in the lower and upper walls of the fireplace body to ensure the circulation of cool air along its back wall. The SWING bio fireplace comes standard with glazing made of double-sided polished fireplace glass with a thickness of 4 mm, capable of withstanding temperatures up to 800 °C. The glass enhances the aesthetics of the device itself as well as protects its combustion chamber. The installation and removal of the glazing are intuitive and does not require the user to use additional tools.
SWING bio fireplace it classic design designed with a focus on quick and hassle-free installation directly into in a dedicated wall niche. Bio fireplaces from HITZE can be additionally equipped with a range of decorative elements, including ceramic logs, various types of decorative stones, or proprietary fiber simulating the effect of embers.
Key features:
Powered by biofuel

Panoramic vision of fire

An alternative to a traditional fireplace

Clean burning without smoke

Environmentally friendly

Increased capacity of the bio-insert

Stainless steel biopanel

Removable cover of the bio-container

Easy filling of the biobrick

Use of absorbent insert

Indicator of maximum filling of the biocontainer

Up to 4 hours of smoking

Wave shaped burner

Refueling made easy

Designed for installation in a recess

Made of boiler plate

Wave shaped burner

High-temperature fireplace paint

Dedicated brackets to hang on the wall

Possibility of using decorative elements

Burner saver included

Made in accordance with

EN 16647

| | |
| --- | --- |
| Fuel type | Bioethanol |
| Maximum capacity of the bioreactor (l) | 1 |
| Fuel consumption (l/h) | 0,25 |
| Fabrication material | P265GH boiler steel according to EN 10028-2 |
| Surface finish | High-temperature fireplace paint |
| Weight (kg) | 13,6 |
| Width x height x depth measurements (mm) | 800x400x125 |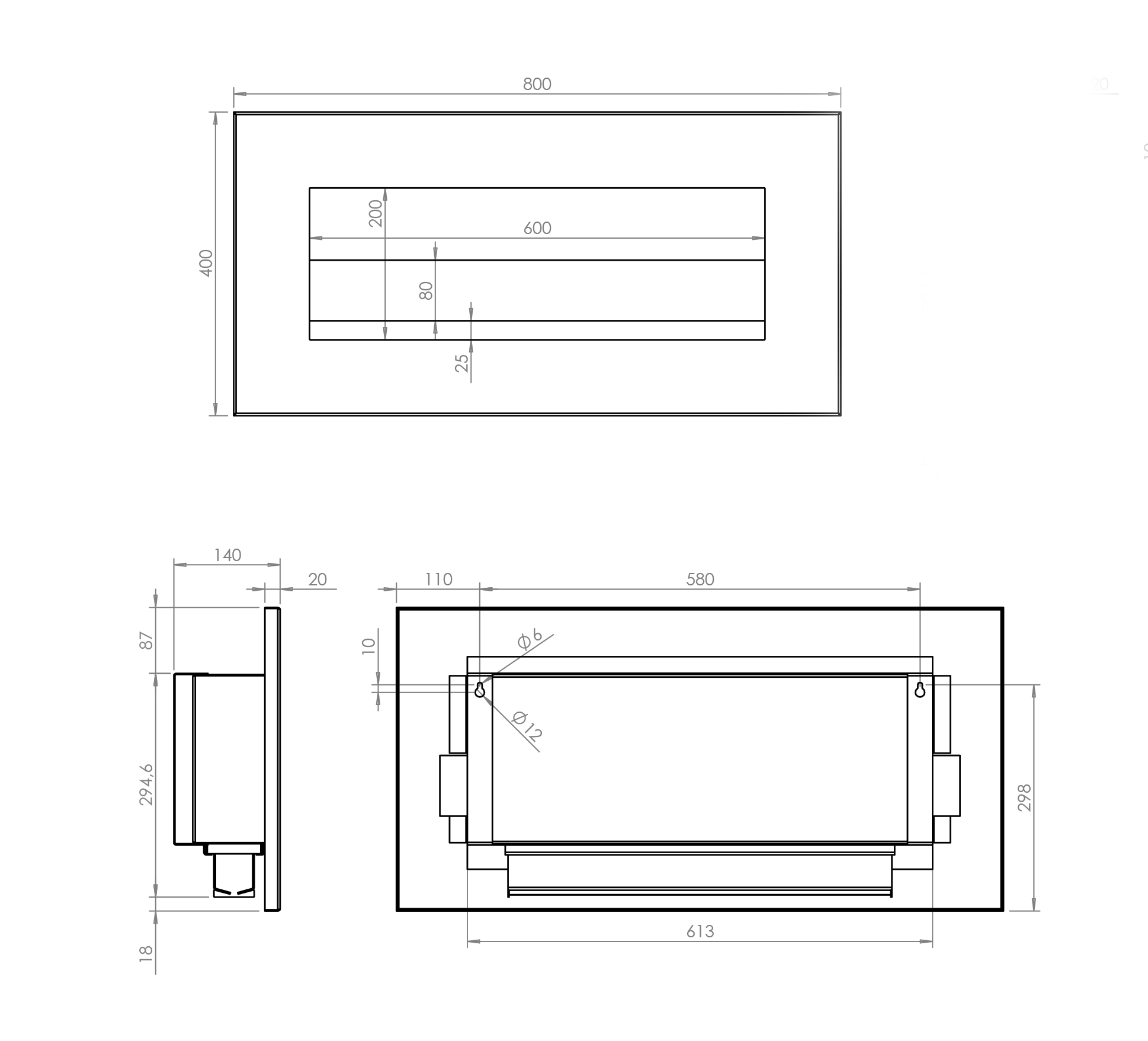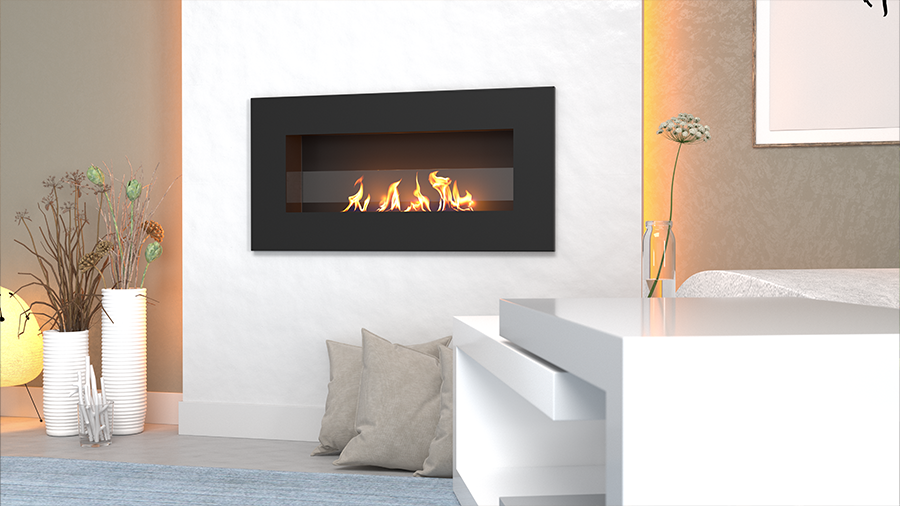 *Product may differ slightly from the one shown in the picture.