SIGA – Najlepiej sprzedający się kominek wolnostojący

Wielbiciele ciepła płynącego z kominków docenią doskonałe parametry energetyczno-emisyjne, jakie posiada wolnostojący kominek SIGA z oferty HITZE.
Jak potwierdza ranking z portalu Świat Kominków, kominek ten zyskuje coraz większą popularność na rynku.
Wygoda i efektywność: parametry, które przekonują
Charakteryzujący się wysoką sprawnością cieplną, aż na poziomie 84%, kominek wolnostojący SIGA to urządzenie o narożnej konstrukcji, które doskonale wkomponowuje się w przestrzenie o zróżnicowanej wielkości – od niewielkich pomieszczeń po przestronne sale.

Ergonomiczność i bezpieczeństwo w jednym
Kominek ten jest wyposażony w szczelną komorę i króciec, co umożliwia dostarczanie powietrza z zewnątrz, a jego ergonomiczna konstrukcja oraz wydajne napowietrzanie paleniska gwarantują bezpieczne i wydajne użytkowanie w domowych warunkach z systemem wentylacji mechanicznej.
Perfekcja w każdym calu Kominek wolnostojący SIGA to wcielenie perfekcji. Jego wykonanie cechuje się wysoką jakością, a praktyczne rozwiązania technologiczne, takie jak trzystopniowe odpowietrzanie komory spalania czy efektywnie działający dopalacz spalin, sprawiają, że jest on idealnym rozwiązaniem dla osób ceniących komfort i efektywność.
Kominek ten jest wyposażony w wysokosprawną kurtynę powietrzną, co dodatkowo ogranicza emisję pyłów i tlenku węgla do minimum.
Idealna akumulacja ciepła

Niezaprzeczalnym atutem tego kominka jest doskonała akumulacja ciepła. Komora spalania i deflektor, umieszczony nad komorą, wykonane są z autorskiego materiału ACCUCERAM, który charakteryzuje się wyjątkowymi zdolnościami akumulacyjnymi ciepła.
Kominek ten dysponuje także specjalnym wymiennikiem ze stalowymi opłomikami, który umożliwia szybkie przekazanie ciepła do pomieszczenia.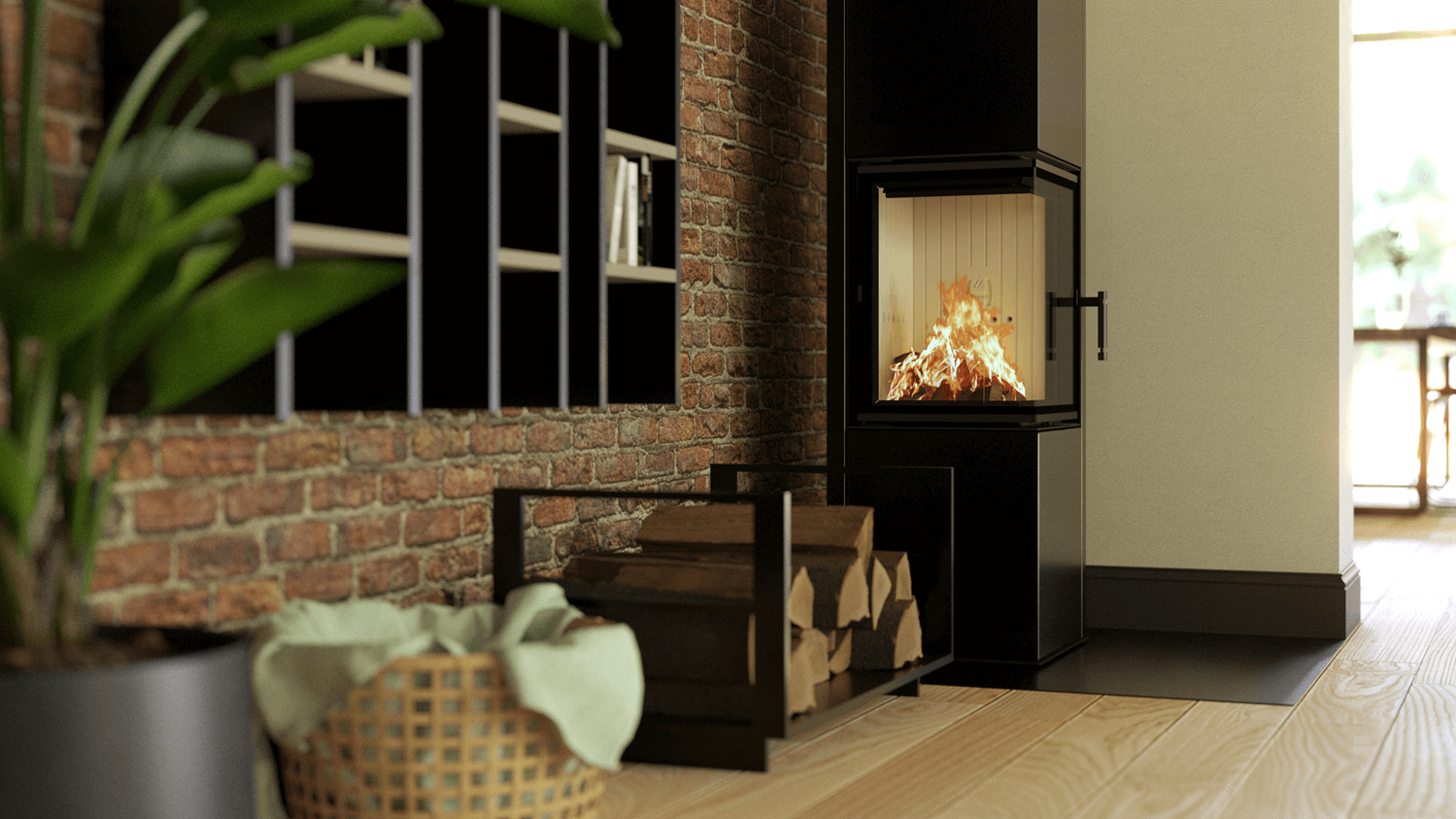 Wolnostojący kominek SIGA to także gwarancja odporności na wysokie temperatury. Drzwiczki narożne są wykonane z ceramiki kominkowej, przystosowanej do temperatury do 800°C, i dodatkowo obustronnie polerowane. Takie połączenie zapewnia nie tylko wyjątkową odporność na ekstremalne warunki termiczne, ale także zapewnia elegancki i atrakcyjny wygląd, niezależnie od warunków użytkowania.
Niezawodność, nawet w najbardziej ekstremalnych warunkach
Dodatkowo całe drzwiczki narożne są wykonane z blachy kotłowej i specjalnego profilu, co stanowi gwarancję sztywności i bezpiecznego użytkowania. Taka konstrukcja pozwala na niezawodne działanie urządzenia nawet w najbardziej wymagających warunkach, zachowując jednocześnie wysoki standard estetyczny.
 Gwarancja długowieczności i bezpieczeństwa
Niewątpliwą zaletą pieca narożnego SIGA jest jego niezwykła trwałość, wynikająca z zastosowania wysokiej klasy blachy kotłowej, której cechą jest podwyższona odporność na nagłe wahania temperatury. Stosowane w konstrukcji materiały, połączone z precyzyjnym wykonaniem, zapewniają długą żywotność urządzenia i utrzymanie jego pierwotnych parametrów nawet przy intensywnym użytkowaniu.
Estetyka w harmonii z praktycznością
Smukła, prostokątna konstrukcja kominka SIGA sprawia, że nie zajmuje on dużo miejsca, a jego narożne drzwiczki gwarantują spektakularny widok płonącego ognia. Nowoczesna konstrukcja urządzenia w połączeniu z ozdobną ramką typu DECOR sprawia, że kominek ten nie tylko pełni funkcję praktyczną, ale też stanowi efektowny element dekoracyjny każdego wnętrza.
Efektywność spełniająca najwyższe normy
Wolnostojący piec narożny SIGA charakteryzuje się zakresem obciążenia cieplnego od 3 kW do 8,5 kW. Jego wysoka sprawność i niska emisja sprawiają, że kominek ten spełnia wszystkie wymagania 15a B-VG, BlmSchV II i Ekoprojekt, co czyni go jednym z najlepszych na rynku.
Prosta kontrola nad procesem spalania
Kolejnym atutem jest możliwość precyzyjnej regulacji systemu dopowietrzania paleniska przy użyciu wyłącznie jednej przepustnicy. Dolny króciec dolotowy sprawia, że kominek SIGA jest przystosowany do domów z systemem rekuperacji.
Gwarancja jakości
Technologia produkcji kominków SIGA opiera się na wykorzystaniu wysokogatunkowych materiałów, takich jak stal kotłowa gatunek P265GH. Ponadto cały proces produkcji odbywa się przy użyciu precyzyjnych maszyn, takich jak lasery 3D, 2D, nowoczesne prasy krawędziowe i zaawansowane roboty spawalnicze.
Niewątpliwie kominek wolnostojący SIGA to produkt, który zasługuje na uwagę. Jego niespotykane parametry, atrakcyjny wygląd oraz liczne funkcje czynią go liderem wśród kominków wolnostojących na rynku. Zasłużenie jest on bestsellerem w ofercie HITZE.

Do you have a question?
Ask our specialists!
Do you want to know more about HITZE's offer or have any doubts?
Contact our specialists who will answer all your questions!
Company info:
Stalko limited liability company
limited partnership
EU VAT: 9482603545
REGON: 361379132
Number in the National Court Register KRS: 0000836475
Address:
GENERAL:
Solec Street 24/253
00-403 Warsaw
OFFICE / WAREHOUSE:
Gdyńska Street 32
26-600 Radom