| | |
| --- | --- |
| Energy class: | |
Low-volume.
Simplified design.
Ideal for placement in a wall niche.
Flue outlet from the top or rear of the fireplace.
Designed for recuperation.
Adapted for connection under the DGP.
High thermal efficiency.
Adjustable feet.
| | |
| --- | --- |
| | Find a Distributor |
Kominek wolnostojący LYNX S
LYNX S to nowoczesny, kompaktowy kominek wolnostojący typu koza, który sprawdzi się znakomicie jako dodatkowe źródło ciepła w pomieszczeniu, a także w charakterze stylowej dekoracji. Piec może być instalowany nie tylko w przestrzeniach otwartych, ale również we wnękach ściennych, dzięki czemu daje jeszcze większe możliwości aranżacji wnętrza. Ponadto wolnostojący kominek LYNX S gwarantuje bardzo wysoką wydajność spalania drewna, dlatego stanowi świetną propozycję dla osób poszukujących opłacalnych i ekologicznych rozwiązań grzewczych.
Free-standing cooker LYNX S - practical and versatile
The LYNX S fireplace has been manufactured with high precision, using high-quality materials and advanced robots and machinery. As a result, this model stands out with its impeccable finish and excellent quality. LYNX S is equipped with a range of practical solutions, such as a detachable flue outlet that allows for installation on the top or back wall of the fireplace and direct venting of combustion products into the chimney. The stove can be fitted with an external cold air intake, making it suitable for use in homes with mechanical ventilation. The option of placing the outlet on the back of the body also allows for the use of the top wall as a heating plate. The fireplace features a movable cast iron grate with an ash pan, making ash removal easier.
Modern and ecological solutions in the LYNX S cooker
The LYNX S freestanding cooker provides high combustion efficiency thanks to a casing made of high-grade P265GH boiler steel and an innovative accumulation material that raises the temperature in the combustion chamber and enables the soot and ash to be burned thoroughly. In addition, an air curtain at the front window and secondary air openings on the rear wall of the chamber increase combustion efficiency. The LYNX S cooker has a three-stage combustion chamber aeration system, as well as two independent dampers to regulate the primary and secondary air supply. These solutions make the LYNX O cooker efficient and environmentally friendly, receiving the energy class A+. It complies with the European Commission's ecodesign guidelines in Regulation 2015/118, and also meets the German BImSchV II and Austrian 15a B-VG standards.
Elegant LYNX S fireplace for any interior
The LYNX S freestanding cooker has been coated with high-quality high-temperature paint, which protects the sheet metal from external agents and gives the fireplace an elegant and aesthetic appearance. This model is also fitted with decorated DECOR fireplace ceramics. The polished fireplace glass with air curtain on both sides maintains its transparency even at temperatures reaching 800°C. The oven positioned above the firebox is an additional feature that allows simultaneous baking and heating. The stainless steel oven interior ensures durability and easy cleaning.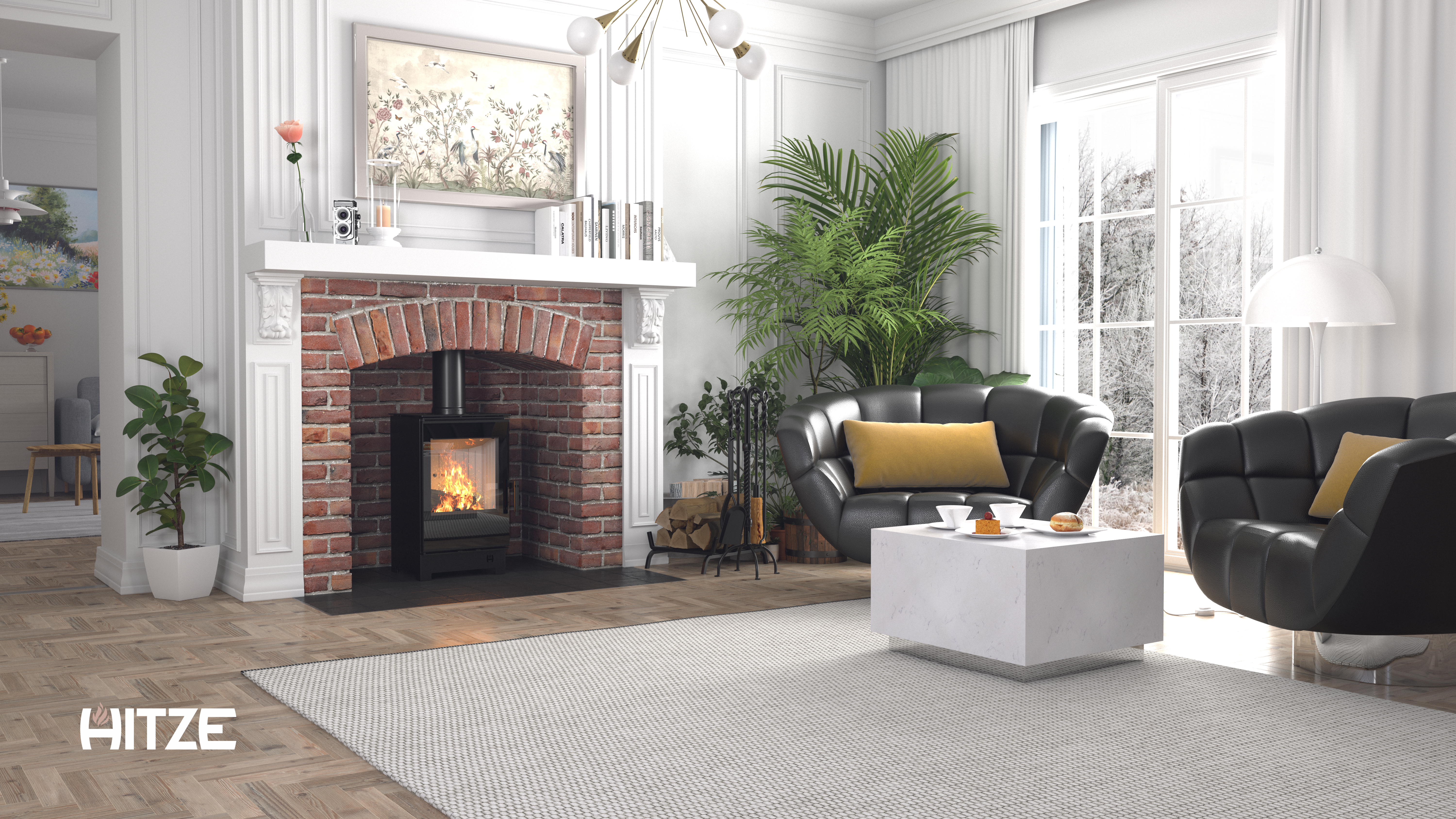 | | |
| --- | --- |
| Fuel type | Seasoned hardwoods with a moisture content of 12-20% |
| Nominal power (kW) | 6,5 |
| Heating load range [kW] | 3,0 – 8,5 |
| Thermal power transferred to the room (kW) | 6,5 |
| Thermal efficiency [%] | 83 |
| Flue gas temperature (°C) | 239 |
| Pollen emissions at 13% O2 (g/m³) | 0,038 |
| CO emissions at 13% O2 (g/m³) | 1,080 |
| Energy class: | A+ |
| Energy efficiency index EEI | 111,4 |
| Meets the requirements of EKOPROJEKT | YES |
| Meets the requirements of BlmSchV II | YES |
| Designed for recuperation | YES |
| Fabrication material | P265GH boiler steel according to EN 10028-2 |
| Weight (kg) | 90 |
| Type of hearth | grates |
| Glass measurements | 390 x 540 |
| Flue diameter [mm] | 150 |
| Inlet diameter [mm] | 100 |
| Width x height x depth measurements (mm) | 407 x 672 x 400 |